The Black Parade Myspace Layout
My Chemical Romance as The Black Parade - DIV Overlay Layout for Myspace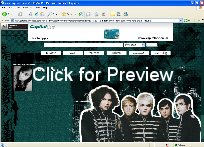 * // Do Not Steal or claim as your own.
* // Credit either
havokgraphixx or Razorblade666 @ Deviantart
* // Comment if taking
* // *NEW* Settings here only work for Internet Explorer as far as I know - you may have to mess around with the code for it to work with Firefox
* // Have fun! =D
1. Remove any coding that you already have on your profile.
2. Copy and Paste this code into your
About Me
section:
3. Copy and Paste this code in your
Interests
section:
4. Copy and Paste this code into a word document.
For this section you will need to edit some of the code yourself to fit your own profile. Where it says **YOUR MYSPACE ID**, you have to enter the ID number of your profile. This can be found after '&friendid=' in your URL code.
Once you have changed these (there are 5 to change), then you paste the code in your
Music
section:
And now, you should have the Overlay as your profile and you can enter all of the details about yourself!
~ SarahHAVOK X